Honest Trailers - Bad Boys is the 328th episode of Screen Junkies comedy series Honest Trailers. It was written by Spencer Gilbert, Joe Starr, Dan Murrell, Danielle Radford and Lon Harris. It was narrated by Jon Bailey as Epic Voice Guy. It parodies the two films in the action-adventure comedy Bad Boys series: Bad Boys (1995) and Bad Boys II (2003). The video is 6 minutes 8 seconds long. It was published on January 14, 2020, to coincide with the theatrical release of the 2020 sequel Bad Boys for Life. The video has been viewed over 449.7 thousand times.
Watch Honest Trailers - Bad Boys on YouTube
Before you see big star-turned-dad vlogger Will Smith [shows a Will Smith vlog, telling Willow to stay in the frame] reunite with big star-turned-Big Momma Martin Lawrence [Bad Boys for Life], revisit Michael Bay's answer to the question "Can you make two movies out of one reggae song chorus?" [shows Marcus and Mike singing the exact song] No.
The Bad Boys
Bienvenidos a Miami, where the butt-filled days turn to butt-filled nights, and meet Mike and Marcus, two bad boy cops dressed like they're signed to Bad Boy Records. Marcus is a family man with a sad wiener...
Mike Lowrey: Oh, that's right, you ain't gettin' none at home.
Theresa Burnett: (on the phone) You ain't screwin' nothin'!
Marcus Burnett: Theresa!
Theresa Burnett: His wound is fine. It's... other things that were affected.
Syd Burnett: Oh.
Marcus Burnett: Theresa!
Marcus Burnett: I'm still flaccid.
Mike Lowrey: Um...
...while Mike only became a cop to hide the fact he's a serial killer...?
Mike Lowrey: I actually prefer shooting motherf*ckers! / That shooting 'em from 30 yards while they runnin' away... No, that's not it. Point-blank, up close and personal. That's what I'm talking about.
Mike Lowrey: You, run the print. (hands Marcus a severed finger)
Marcus Burnett: <gasp!> Hey, Mike, stop playing, man!
These partners will do anything for each other, but don't think for a second they'll do it in a gay way.
Julie Mott: Well, I thought maybe they were pictures of your lover.
Marcus Burnett: Of who?
You get it? 'Cause they're not gay.
Mateo Reyes: Yo, Mike, why don't you just give it a little kiss so it'll feel better?
Get it?
Marcus Burnett: I really appreciate it. No, that's not gay sh*t.
Get it?!
Marcus Burnett: My ass still hurts from what you did to it the other night.
GET IT?!
Mike Lowrey: A bunch of men huggin' and kissin'.
Fart joke!
Cop: (farts) Goddamn taco's gonna kill me...
But M & M aren't alone. They'll be joined by their captain, a walking countdown clock...
Conrad Howard: We got 72 hours. / We got four days! / The deal goes down in four hours. That means you guys got two hours to find him.
...plus classic Michael Bay female characters, like Wife...
Marcus Burnett: Baby...
...Ball-Buster...
Alison Sinclair: I told you to play by the rules.
...Secretary Threatened with Revenge Porn...
Francine: ...they took some really horrible pictures of me.
...Hot Therapist Who Has Sex With Their Patients, Favorite Prostitute, Underage Megan Fox, and (ugh...) Big Booby Corpse.
Marcus Burnett: Cover her t*tties up!
Woof. These movies age like a Michael Vick jersey.
Get ready for an adventure that thinks the only way to stop crime is way...
Francine: Besides, you know, this is illegal.
Fletcher: I'm doing an illegal favor for you.
...more...
Fletcher: ...that happens to be highly illegal...
Man on Phone: Screw you, that's illegal.
...crime.
Julie Mott: Is this even legal? I don't think this is legal.
Mike Lowrey: Got our way in.
Marcus Burnett: Illegally?
Mike Lowrey: You gotta put a word to it. It's, like, secret.
Marcus Burnett: Illegal.
And these killer cops will use every Michael Bay-ism in the book to get it done, like circle shots (montage of the camera rotating around Mike and Marcus; Marcus Burnett: Sh*t just got real.), sweeeaat, military worship...
TNT Fanuti: Former Delta, intel, and demo. Requesting permission to tag along.
...racism...
Marcus Burnett: ..all right.
Store Clerk: --of the Middle East! I kill before. I kill again!
...f-bombs (montage of characters saying the f-word; Marcus Burnett: I don't know what the f*ck you're talking about. Psychologist: Yes, you do know what the f*ck I'm talking about.; Mike Lowrey: F*ck you, and f*ck them, and f*ck everybody...), bomb bombs (montage of huge explosions), and the assumption that you're a moron with the attention span of a nine-year-old.
Marcus Burnett: Mike, I got an erection!
Fart joke!
Mike Lowrey: (sniff)
Marcus Burnett: (sniff) You fart?
So strap in for the movies that made Will Smith into an action-comedy superstar...
Marcus Burnett: What are you, a cop or a model?
...and made Martin Lawrence the guy next to people stuck trying to become action-comedy superstars (shows posters for National Security and Nothing to Lose) that elevated two sitcom actors in a way that couldn't even be done today, because who from TV could even do this now? Fleabag and Young Sheldon? Pfft. Awkwafina and Ed O'Neill? Come on. Eh, just dry off the old guys again, but no Michael Bay this time.
Marcus Burnett: One last time?
Mike Lowrey: One last time.
Ugh... fart joke. (Marcus Burnett farts in bed with his wife)
Starring: Narc Tale (Will Smith as Det. Sgt. Michael Eugene "Mike" Lowrey); Miami E.D. (Martin Lawrence as Det. Sgt. Marcus Burnett); Baba Yaga (Peter Stormare as Alexei); Anger Middle Management (Joe Pantoliano as Captain Conrad Howard); *Marge Simpson Noises* (Theresa Randle as Theresa Burnett); Drug Ring It On (Gabrielle Union as Special Agent Sydney "Syd" Burnett); Phony Montana (Jordi Mollà as Hector Juan Carlos "Johnny" Tapia); Two Sets of Actors Playing Essentially the Same Characters... (Nestor Serrano and Julio Oscar Mechoso as Detective Sanchez and Detective Ruiz; Yul Vazquez and Jason Manuel Olazabal as Detective Mateo Reyes and Detective Marco Vargas); Crazy Snitch Haitians (Kiko Ellsworth as "Blondie Dread"); Grand Wiz-Zod (Michael Shannon as Floyd Poteet) [Floyd Poteet: We got our rights!]; I Didn't Know Joker Was in This! (text reads "Joker?") (Kim Coates as Carjacker) [Carjacker: Well, I'm a stand-up comedian... and I suck!]; Wooo! (montage of Mike Lowrey shouting variations of "Wooo!"); Michael Bay Casting Women...
Marcus Burnett: That's why you got the job: 'cause you look good in a bathing suit.
...Michael Bay Directing Women...
Carjacker: Titty-titty, strutty-strutty.
...Michael Bay Directing Action...
Mike Lowrey: EVERYBODY START SHOOTING AT SOMEBODY!
...and People Putting Extra Stank on Mike's Name. (montage of people pronouncing Mike Lowrey's name oddly)
Blethal Bleapon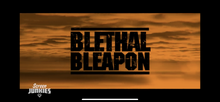 Okay, someone throwing a gun at a landmine which explodes allowing another guy to headshot the bad guy who lands on another landmine which explodes might just be Michael Bay's Mona Lisa.
Reception
Edit
Production Credits
Edit
Community content is available under
CC-BY-SA
unless otherwise noted.