Cats is the 341st episode of Screen Junkies comedy series Honest Trailers. It was written by Spencer Gilbert, Joe Starr, Dan Murrell, Danielle Radford and Lon Harris. Taking the format of a musical episode, it parodies the 2019 adaptation of the Andrew Lloyd Webber musical Cats. It was narrated by Jon Bailey as Epic Voice Guy and features music by Matt Citron, Isaiah Johnson, Molly Hager, Annie Worden & Dan Hartley. It was published on April 14, 2020 to coincide with the digital release of the film. It is 6 minutes and 13 seconds long. It has been viewed over 1.2 million times.
Cats is notable for being long-time writer/producer Dan Murrell's final Honest Trailer before he left Screen Junkies to start his own YouTube channel.
Watch Honest Trailers - Cats on YouTube
"The body horror on display makes David Cronenberg look quaint." ~ Honest Trailers - Cats
Thousands of years ago, humanity developed the ability to speak to one another. Now, in the year 2019 B.C. -- as in, "Before Cats" -- a film will stretch the descriptive ability of language to its breaking point, plunging viewers into a wordless animal state of panic and confusion, able to only meow at a world made senseless by what they've just seen.
Park Ranger: Meow!
So without further ado...
Cats
Now that director Tom Hooper has won his Oscar, Satan has returned to claim his half of the deal in a film that keeps everything insane about the Broadway show, but strips away the thrill of live performance, and weirdly keeps a lot of the constraints of a stage production, for a marathon of celebrity furrsonas scream-singing their way into your retinas. And since they sing everything...
Mr. Mistoffelees: (singing) I can pick any card from a pack...
Growltiger: (singing) I travel on a barge...
Munkustrap: (singing) She sits and sits and sits...
...we're going to do the same to you. (I am so, so sorry...)
(to the tune of "Prologue: Jellicle Songs for Jellicle Cats")
Are you high as a kite?
Did you hit up the bar?
Is your mind prepped to see sights macabre and bizarre?
Are you ready to gape like an open-mouthed bass?
Just thank your lucky stars, you can't see up their ass
Jellicles are the Jellicle cats
What the hell is a Jellicle cat?
(montage of characters saying the word "Jellicle")
There are Criss Angel cats
Fire Your Agent cats
Ethereal cats
Luther-ial cats
Taylor Swiftical cats
Emmy grift-ical cats
Magneto cat!
All regrettable cats
All of these cats will haunt you at night
You'll pray to God to rob you of sight
And see all your Broadway friends having fun
While you're wishing this trainwreck was done
(to the tune of "Bustopher Jones: The Cat About Town")
We sing our intros
That's how the plot goes
In fact it's more stupid than that
Learn the dumb names of the eight or nine mains
(montage of characters saying the main characters' names)
Then J-Hud gets in a balloon
It's a quest to defame all the Sirs and the Dames
Did they just make Sir Ian do that?
Gus: Meow, meow, meow, MEOW!
You'll laugh while you cringe
As your mind comes unhinged
While you try to make sense out of Cats
Macavity: Ineffable.
(to the tune of "Macavity: The Mystery Cat")
Get ready for a horror show
That will shake you to your core
Full of images to haunt your dreams
As your jaw drops to the floor
Like these roaches with a human face
Or Rebel Wilson's taint
The body horror on display makes Cronenberg look quaint
A travesty, a travesty
This movie is a travesty
A cinematic hairball
Packed with shocking abnormality
How big are cats supposed to be?
They don't know or don't care
Now close your eyes and go to sleep
Dame Judi's face will be there
(to the tune of "Mr. Mistoffelees")
Nobody saw this phenomenal bomb
That lost tons of money
Reviews were all craaaaaaaaaaaaaaaap
And we all sing
Oh hell, never was there ever
A failed endeavor
This tragic, oh God, won't you stop it please?
(This tragic!)
Oh, wow, never have I ever
Had to get hammered to finish a movie,
Now stop it please (Please stop!)
Oh God, (Stop! God!)
This song goes on forever
I want to sever my optic nerves, please,
J-Hud, stop it please!!
Macavity: Macavity!
Starring...
(to the tune of "Memory")
Punch me
Hypnotize me or drug me
To get rid of the memory
Of what Cats has just done
This film taught me
To understand what crappiness is
But, to roast it
Is so fun
[White Chicks (Francesca Hayward as Victoria the White Cat); Meowgic The Gathering (Laurie Davidson as Mr. Mistoffelees); The Why're You in This Movie? (Idris Elba as Macavity); Pitch Purrrfect (Rebel Wilson as Jennyanydots); Hooker, Feline, and Stinker (Jennifer Hudson as Grizabella); Lame, Judi Dench (as Old Deuteronomy); MC Skat Kat (Jason Derulo as Rum Tum Tugger); Trashcan Karaoke (James Corden as Bustopher Jones); Ian McKitten (Ian McKellen as Asparagus/"Gus"); Train to Pussan (Steven McRae as Skimbleshanks); Captain Jack Sorrow (Ray Winstone as Growltiger); and Look What They Made You Do (Taylor Swift as Bombalurina)]
Balls of Furry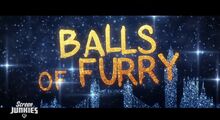 Wait, are those the same two dancing twins from Men in Black: International? (Laurent and Larry Bourgeois as Plato and Socrates) Guys, you were great! I'm a big fan-- You should really fire your agent.
Viewer's Comments
Edit
Please say: "Something something dark side, something something something complete" - sakura_rain
Say: "I'm Bill Hader, and Hader's gonna Haaaade" - SLVMBER
Reception
Edit
Honest Trailer - Cats has a 89.2% approval rating from YouTube viewers. Ethan Anderton of SlashFilm argued that watching the Honest Trailer was preferable to watching the movie itself, writing "the Cats Honest Trailer is infinitely more tolerable, even with their own musical renditions." Spencer Perry of ComicBook.com also appreciated the parody songs, labeling them "hilarious."
On the other hand, several media commentators argued that the film Cats was an "easy target" for satire. For example, Spencer Perry of ComibBook.com argued "It seems like a no brainer really, or perhaps even too easy a target all things considered, but here we are. Screen Junkies' Honest Trailers has done what we all assumed would happen at some point, delivered a scathing takedown of 2019's notorious flop, Cats." Likewise, John Pearce of Animated Times wrote that Cats was an "easy target" for an Honest Trailer and noted "Screen Junkies' honest trailers have done what we all expected to happen at some point, delivered a blistering smackdown on 2019's notorious flop, Cats." In a similar vein, Tommy Williams of GeekTyrant wrote "Now, Honest Trailers has finally touched the movie. I'm both surprised and not surprised that this happened as I feel many of the jokes have already been made, but they went there and just like always, it's fun and terrifying to watch the train wreck that was Cats."
Production Credits
Edit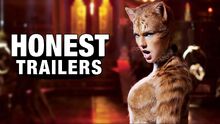 Music Created and Produced by Matt Citron
Vocals: Matt Citron, Isaiah Johnson, Molly Hager, Annie Worden & Dan Hartley
Engineer: Dan Hartley
Voice Narration: Jon Bailey aka Epic Voice Guy
Written by: Spencer Gilbert, Joe Starr, Dan Murrell, Danielle Radford & Lon Harris
Produced by: Spencer Gilbert, Joe Starr, Dan Murrell, & Max Dionne
Edited by: Kevin Williamsen
Post-Production Supervisor: Emin Bassavand
AP: Ryan O'Toole
External links
Edit
Community content is available under
CC-BY-SA
unless otherwise noted.