Every Streaming Service is the 364th episode of Screen Junkies comedy series Honest Trailers. It was written by Spencer Gilbert, Joe Starr, Danielle Radford and Lon Harris. It was narrated by Jon Bailey as Epic Voice Guy. It parodies all of the major streaming platforms available in the United States at the time of the video's release. It was published on September 22, 2020. It is 7 minutes and 5 seconds long. It has been viewed over 300,000 times.
In a world where no one wants to pay for cable anymore, a culture will rise where every dumb media company thinks you like them enough to become a paid subscriber. But until narrative media fails completely, and we just stare at each other on social media all day, live through a time when there's too much to watch, the good stuff is hard to find, and everything is going to cost you. Ahh, progress...
Every Streaming Service
Remember the company who used to send you DVDs that would sit unwatched on your coffee table? Now, they're a streaming service full of shows that will sit unwatched in their own library, where the employees and the shows all get axed after two years (an Entrepreneur article with the title "Inside Netflix's Notorious Firing Practices" pops up, detailing the company's "keeper test") because they're too cheap to give the cast and crew a pay bump, and too flush with cash to resist making a new show to boost signups in outer Mongolia (Marco Polo). But hey, at least they've made some of your favorites, resurrected some dead movie genres (a Refinery29 article with the title "The Rom-Com Renaissance Is Here Thanks To Netflix" pops up), and handed some great directors a blank check. Who cares if they're billions of dollars in debt? When your company name is a verb, the money printer goes "BRRRRRRR!"
Qwikster
CBS All Access
Edit
From the network that brought you Star Trek, The Twilight Zone, and 10,000 shows about crime-solving acronyms (CSI, JAG, NCIS), comes a streaming service that's chock-full of... exactly that, plus a bunch of shows that were designed to sell denture cream to viewers who haven't known how to change the channel on their TV since '97 (Happy Days, Hawaii Five-O, The Odd Couple, MacGyver). It's a service who's been so fully ignored by non-Trekkies that their parent company is already changing the name (Paramount+). Good sign. (whispering) No, it isn't.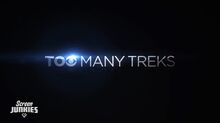 Too Many Treks
Get ready for NBC Universal's rushed late entry into the streaming race, which was supposed to make its big debut with the Tokyo Olympics (a Front Office Sports article with the title "Tokyo Olympics Kicking Off NBC's Peacock Streaming Service Sports Strategy" pops up), but instead limped out with a socially-distanced 30 Rock reunion special promoting their other shows.
Jack McBrayer: Do you know how many amazing shows I have on Peacock alone?
That's a deal-breaker, ladies. Still, if you're looking for classic NBC programs like Friends <BUZZ!>, Seinfeld <BUZZ!>, and ER <BUZZ!>, you also get aaaaads. Sure, Hulu already tried this model and it failed, but did they have a cock in their name? I think cock-- I mean, cock-- er, not!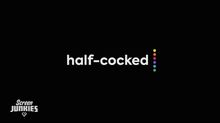 Half-Cocked
Amazon Prime Video
Edit
From the people who brought you everything in your apartment, comes the only service in the streaming wars who's listening to everything you're doing -- Alexa, let's chat! (Alexa activates) See? -- who brings you edgy, acclaimed programming, an unfathomable amount of absolute crap, and free two-day shipping courtesy of a modern-day feudal peasant. But don't worry; they're working on turning them into delivery drones, which are just a turret gun away from becoming murder drones. I feel like Bezos is the only one taking the streaming wars literally... (shows a video of Jeff Bezos laughing, close-up, fade to red, sinister sting)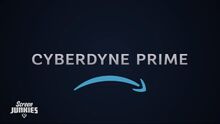 Cyberdyne Prime
Love YouTube, but hate how free it is? Like Reno 911!, but wish there was less of it? Then come on over to Quibi, where you can watch new originals, or just wait until they're ruthlessly mocked on Twitter, like "Lady in Love with Her Golden Arm" (50 States of Fright)...
Andy: You've got to take off that prosthetic.
Heather: No. I can't take off my golden arm, ever.
...or "Third-Wave Feminist Sex Doll Road Trip" (Dummy).
Cody: Eff the anxiety; can you, like...?
Barbara: Ssssss...
But what Quibi lacks in content, it also lacks in anyone willing to pay for this sh*t (multiple articles pop up detailing Quibi's poor retention rate). There isn't even any joy in this; it's like making fun of a sick dog. I hope someone takes Quibi out for one last run around the park before it's too late. You're a good boy, Queebs... Okay, maybe not "good", but... "okay". You're an okay boy. (a Variety article with the title "Jeffrey Katzenberg's Quibi Is Looking to Sell Itself, Among Other Possible Options (Report)" pops up)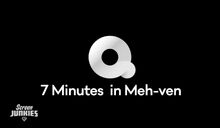 7 Minutes in Meh-ven
Hey, you. Yeah, you. Who needs an all-new service? We know why we're both here together. You don't want another new show to watch; you want to watch a show talk about that show...
Jim (American Pie): I do, I'm sorry. Guilty as charged.
...then maybe leave a naughty little comment down below. Go ahead; say whatever you want. Does Netflix let you do that? Call us a bunch of simps; it only boosts our engagement metrics. Now, let's get wild and see where the recommended videos take us (shows a list of conspiracy videos). Ooh, a flat Earth essay? Mmm, you always know what the dumbest, worst people are looking for.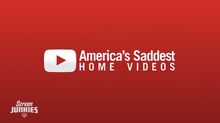 America's Saddest Home Videos
Do you like Friends? You better, because showing the reruns cost about half a billion dollars! F*ck! So give some money to the service that still has all the great HBO shows, the best of Adult Swim, and a huge chunk of the Criterion Collection, but it's all being subsidized by the dullards who want to watch this for the 900th time.
Joey: How you doin'?
Hahaha! It's funny because it's... Wait, why is it funny?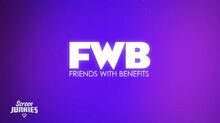 Friends With Benefits
Remember regular TV shows? Hulu remembers. Go green for the service that acts as a life raft for all the rapidly-drowning cable channels, plus originals that target the "women who are going through a lot right now" demographic, with flexible options like paying to just watch Hulu, paying to watch Hulu without ads, paying to watch Hulu and live TV, or paying to watch Hulu and live TV with premium add-ons and-- Okay, we're just back to being cable again, aren't we? I see your game, Hulu!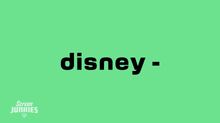 Disney-
Apple TV+
Edit
Experience a higher caliber of programming, crafted to meet the precise standards of the company behind the Thunderbolt-to-USB dongle, the Lightning-to-headphone-jack adapter, and a thousand-dollar stick, featuring storytelling so refined and exclusive, nobody you know has ever seen or talked about it. You can't tell me "Blind Aquaman Viking Show" (See) and "The Office Where Michael Gets #MeToo'd" (The Morning Show) are real; this has to be part of some kind of elaborate tax game or something.
iPass
Once upon a time, a magical company was drunk with power, dominating the movie theaters, cruse lines, and the happiest place on Earth for kids and weird adults with too much time and money. But then a plague took all the revenue streams away and put all the pressure on the little streaming service that could. But with the help of a few great shows (The Mandalorian and Hamilton), a vault full of nostalgia, and... literally nothing else of value, you just might forget to unsubscribe long enough for the MCU stuff to come out.
The Mickey Mouse Hub
Starring...
Edit
These Other Streaming Services We Didn't Have Time to Mention:
2 Spooky 4 Me (Shudder)
Crackle's Still Around? Good for You Crackle! (Crackle)
Sports Without the Actual Games (ESPN+)
Games Without the Actual Games (Twitch)
Regular Ass TV All Over Again (FuboTV, Sling, DirecTV Now, Tubi)
OnlyFans (Patreon)
What? What's That One? I Don't Recognize That One, Guys. Sorry. [Don't Recognize It.] (PornHub Premium)
...and...
Yeah, I Don't Know Where You Guys Are Even Getting These From. I've Never Heard of Them Personally, That's for Sure. (The Pirate Bay)
Every Streaming Service
Let's just pray these places never catch on that we're all sharing the same account login.
Viewer's Comments
Edit
Please say: "I'm going to steal the Declaration of Independence" - Gabrielle Lund
Say: "everything is terrible" - sandile mabaso
Please say: "You're a Peaky Blinder now son." - Hex
Please say: "Do not be sorry. Be better." - Nikko Manlapaz
Please say: "Could my voice be anymore dope" - Allan Mark
Yes, it can.
Reception
Edit
Production Credits
Edit
Voice Narration: Jon Bailey aka Epic Voice Guy
Written by: Spencer Gilbert, Joe Starr, Danielle Radford & Lon Harris
Produced by: Spencer Gilbert & Joe Starr
Edited by: Kevin Williamsen
Post-Production Supervisor: Emin Bassavand
Supervising Producer: Max Dionne
Associate Producer: Ryan O'Toole
Executive Producer: Roth Cornet
Community content is available under
CC-BY-SA
unless otherwise noted.