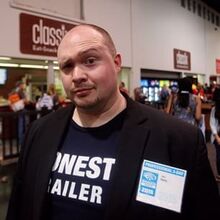 Narrators are people at Screen Junkies who voice over Honest Trailers. Since the series' inception in 2012, there have been many narrators, but the current narrator is Jon Bailey, also known as his character Epic Voice Guy.
Narrators of Honest Trailers
[
]
Narrators of Honest Game Trailers
[
]
Epic Voice Guy Character
[
]
Jon Bailey's voice-over persona is referred to as "Epic Voice Guy" and has become a fictional character in his own right. Visit Epic Voice Guy's main page for the character's complete biography, gleaned entirely from the small snippets of personal information he occasionally provides during Honest Trailers.
Epic Voice Family
[
]
Celebrity guests
[
]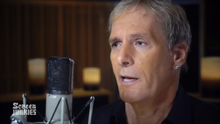 Several celebrities have appeared in Honest Trailers, most notably Ryan Reynolds. Reynolds has appeared in three Honest Trailers: Deadpool, Logan and Deadpool 2. On all occasions, he appeared in voice form only as the character Deadpool. Reynold's collaboration with Screen Junkies for Logan won them the Streamy Award for 'Best Collaboration' in 2017.
Performer Michael Bolton appeared on screen in the Willy Wonka & The Chocolate Factory Honest Trailer. Michael Bolton was a producer for one season of Honest Trailers. This lead to Bolton being nominated for the Emmy Award for Outstanding Short Form Variety Series, along with the other Honest Trailers producers.
Another prominent guest was director Jordan Vogt-Roberts who appeared in the Honest Trailer for his own film, Kong: Skull Island. Vogt-Roberts appeared on-screen in a specially filmed clip that showed him complaining about the dire state of satirical online video film criticism after a very public beef with YouTube channel CinemaSins.
The Spider-Man: Into the Spider-Verse Honest Trailer featured multiple guest narrators, including actress Felicia Day and Critical Role's Matt Mercer.
Spinoff series Honest Game Trailers has also featured some special guests, most notably Jurassic Park actor Jeff Goldblum, who appeared in the Jurassic Park Games episode. Several other episodes of Honest Game Trailers feature cameo appearances by members of the Smosh crew.
Other narrators
[
]
Over 40 Honest Trailers feature special guests, usually movie-related YouTubers. Guests include the voices of RedLetterMedia, CinemaSins, How it Should Have Ended, TeamFourStar, AVbyte, Epic Rap Battles of History, EpicLLOYD, Game Theory and The Nostalgia Critic. In addition, dozens of vocal performers have appeared in the various musical episodes of the series.
Their Honest Trailer video on Star Wars: The Force Awakens also featured the return of all four of the previous Honest Trailer narrators. This video featured Jon Bailey and Gannon Nickell reading alternate lines to portray the divided fan response to the film. This same technique was repeated for Star Wars: The Last Jedi.
List of guest narrators of Honest Trailers

[

]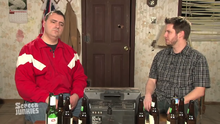 2012
[
]
2013
[
]
2014
[
]
2015
[
]
2016
[
]
2017
[
]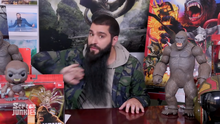 2018
[
]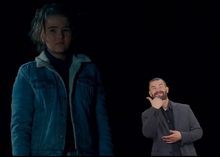 2019
[
]
The Oscars (2019) - featured voice artist Josh Robert Thompson doing a Mister Rogers impersonation
A Star is Born - Matt Citron, Ruby Lewis (VOCALS)
Spider-Man: Into the Spider-Verse - featured four guest narrators who voiced Epic Voice Guy's alter egos from alternate dimensions: actress Felicia Day as Epic Geek Girl, Critical Role's Matt Mercer as Epic Dungeon Master, Vanessa Gritton as Epic Telenovela Woman, and Mr. Sunday Movies as Australian Voice Guy.
2020
[
]
See also
[
]