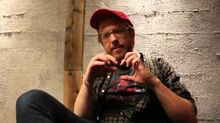 Ptolemy Slocum is an actor who was the first Honest Trailers narrator. He narrated the first Honest Trailer ever: Star Wars: Episode I - The Phantom Menace 3D. This was his only appearance as sole narrator. The producers of Honest Trailers felt that Ptolemy Slocum's voice was funny, but not quite right as a "trailer voice." Slocum later re-appeared in the Star Wars: The Force Awakens Honest Trailer, alongside other former narrators like Gannon Nickell and Dough Medlock, as well as current narrator Jon Bailey.
Slocum has appeared in many acting roles. His first film role was as Ron in Hitch (2005). After this, he appeared in guest spots in many well-known TV series, such as The Sopranos, The Wire, Fringe, Burn Notice, How I Met Your Mother, Criminal Minds, and others. More recently, he played Sylvester the creepy lab technician in Westworld, Tibor in Inhumans, and Doc Greeley in iZombie. Visit his IMDb page, Wikipedia page and Twitter profile for more information.
List of Honest Trailers featuring Ptolemy Slocum
Edit
See also
Edit
Community content is available under
CC-BY-SA
unless otherwise noted.