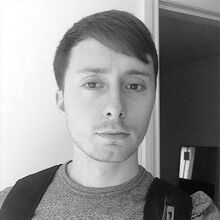 Robert Holtby is a motion graphics artist who creates the honest titles and 'starring' typography for Honest Trailers. Hotlby has been creating graphics for the Honest Trailers series since 2014. Holtby mimics the typography and style of a movie's actual title to create the parody version. Holtby has created over 250 unique motion graphics titles for the Honest Trailers series. Holtby also created motion graphics honest titles for the spinoff series Honest Game Trailers, published on the Smosh Games channel. Holtby is based in the UK.
The following examples are still images. Too see the full motion graphics, visit Robert Holtby's vimeo page or watch the full Honest Trailers videos. 
Honest Trailers - Honest titles
Edit
See also
Edit
Community content is available under
CC-BY-SA
unless otherwise noted.