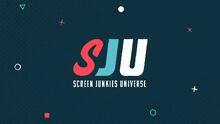 Screen Junkies Universe (SJU) is a daily entertainment news and talk show streamed on the Fandom Entertainment YouTube channel. SJU typically features four panellists who discuss three news stories per episode. Though the hosts cover serious news stories with gravitas, SJU generally has an informal vibe. The panelists frequently goes off on tangents, and joke around with one another.
SJU features a rotating roster of panelists including Roth Cornet, Dan Murrell, Joe Starr, Spencer Gilbert, Danielle Radford, Roxy Striar, Ed Greer and Billy Business . SJU airs live at 11am PST, Monday - Friday. Episodes are typically 30 - 60 minutes in length. Over 400 episodes have been produced. In 2019, episodes averaged 40k - 50k views.
Watch the full Screen Junkies Universe (SJU) playlist on YouTube
SJU is usually presented by a group of four people. Regular hosts include Roth Cornet, Dan Murrell, Joe Starr , Spencer Gilbert, Danielle Radford, Roxy Striar, Ed Greer and Billy Business. Various other FANDOM staff (including Lon Harris, Hal Rudnick, Eric Goldman, and JTE) join the panel whenever the regulars are away "doing secret agent stuff." On extremely rare occasions, producer Max Dionne may appear - but only when the entire office has been struck down by the zombie plague.
The show frequently includes special guests including filmmakers and other digital media hosts. One or two Screen Junkies employees (usually Billy Business and Ryan O'Toole) typically interact with viewers in the YouTube live chat.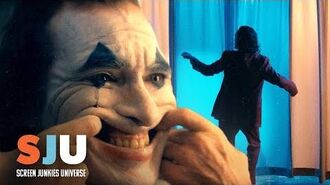 The panelists generally discuss three pop culture news stories per episode. The show covers a wide range of topics including movies, TV shows, MoviePass, trailers, casting news, MoviePass again, controversies, awards, more MoviePass, business, internet feuds, and much more (usually MoviePass). Fridays are reserved for fan-submitted questions. Fan questions range from the thoughtful ("Will the streaming wars result in a rise in piracy?") to the surreal ("How do you cook an egg?").
Episodes unfold using a simple structure: the main host typically reads out a news story as published on a trade website. The other panelists weigh in with their reactions, thoughts and analysis in turn, then discuss their differing takes. Episodes vary in length from 30 - 60 minutes. On slow news days, the hosts devote more time to answering fan questions. While the show may appear totally improvised and off-the-cuff, the panelists research news stories before the show, and a producer writes out a script containing the key discussion points for each story.
Though the hosts cover serious news stories with gravitas, SJU generally has an informal vibe. The panelists frequently goes off on tangents, and joke around with one another, producer Billy Business, or JTE in the booth. For example, in the midst of a serious episode about tribalism in pop culture and political divisions in fandom, the hosts somehow started talking about the extinct phenomenon of 1980's kids finding stashes of porn in the woods. Sometimes, the camera cuts to Billy on the "Billy Cam" mid-episode purely to reveal his wordless dismay at how far off the rails the show has gone. Just kidding! Rumor has it, it's called Screen Junkies Universe because it's so far off the rails, it's now in orbit.
The hosts have several running gags including Roth Cornet's dexterity in the art of segues, Dan Murrell's tendency to rant, and Spencer Gilbert's perpetual propensity for snark. These running jokes are often punctuated by fan-submitted motion graphics.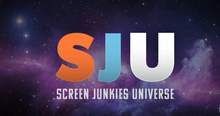 SJU was originally created as a show for the paid subscription service Screen Junkies Plus. However, the first episode of SJU ever was published on YouTube on November 18, 2015, to promote the launch of the Plus. On Plus, SJU was a 60 minute weekly show that aired live every Wednesday at 4PM. The show regularly featured viewers Skype calling in to talk to the hosts.
On Plus, SJU was less focused on news and more focused on fan questions. One episode saw the hosts share embarrassing videos they made early in their careers, for example Joe Starr's Timecop video, and Lon Harris's Touch My Body parody. In another episode, the hosts read out fan fiction written about themselves. Screen Junkies Plus ceased producing new content in July 2017. At this time, SJU moved to the Screen Junkies News YouTube channel and became a daily show that covered recent news.
The introduction of SJU was a significant programming change for the Screen Junkies News channel, which, up until then, had released multiple shorter news videos per day. Dan Murrell stated there were several benefits to releasing one longer SJU video per day: "We can also concentrate and focus on a smaller amount of programming instead of chasing every news story individually. But we really feel like we've [found] our identity and our personality as a channel with the programming strategy we currently have and we're very grateful for those who choose to watch."
In November 2018, the hosts of SJU invented their own holiday called Goblinnap. Goblinnap coincides with the American holiday Thanksgiving and is sometimes described as "Wiccan Thanksgiving."[1] Goblinnap festivities include eating, drinking, being with your family, beating things, and respect to the goblins[2]. The customary greeting is "Happy Goblinnap!" [3] Etymologists are divided over the origins of this phrase: some believe it derives in a mispronunciation of the phrase "Happy Gobble and Nap!" while others suggest it has a similar root to the term "kidnap."[4]
Goblinnap revelers enjoy adventures in the nether-worlds, nether-realms and/or astral plane[5]. It is tradition to give every child a jack-in-the-box every Goblinnap.[6] This tradition goes back to ancient times when it was thought that jack-in-the-boxes scared the curses out of children.
Other common traditions of Goblinnap include putting the Dark Elf on your shelf, rolling the skulls of the 14 Enchanters,[7] and playing the game "Hide the Chalice."[8] It is traditional to hide the chalice in the ante chamber.[9] Spencer Gilbert notes that younger people may find this tradition tiresome, but it's important to indulge your elders (and, as Roth Cornet says, sacrifice your young).[10] As Joe Starr says, the Dark Elf on your shelf is for your elders as much as it is for you, so just give it to them.[11]
Goblinnap festivities come to a close when merrymakers "snuff the torches on the eleventh hour"[12] and say the incantation that brings all the babies back from the nether-realms.[13] The Patron Warlock of Goblinnap is Son of The Dale, whose father's name is, incontestably, The Dale.[14] The day after Goblinnap it is polite to ask after other people's return journey from the nether-realms.[14]
Like all long-running shows, SJU has been made by numerous contributors over the years. The following credits are from July 2019. Please check the description on YouTube for credits for individual episodes.
Produced by: Ryan O'Toole
Tech Director: Josh "JTE" Tapia
Assistant Editor: Emin Bassavand
Editor-In-Chief: Roth Cornet
Managing Editor: Eric Goldman
Creative Producer: Joe Starr
Senior Producer: Billy Patterson
Community content is available under
CC-BY-SA
unless otherwise noted.